Acanthosis nigricans - Image
A pigmented, thickened, chronic patch in the armpit is acanthosis nigricans – also in this patient a paraneoplastic disease (the patient has lung carcinoma). With this symptom, only the diagnosis is important, and that's it.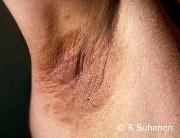 Copyright © 2020 Duodecim Medical Publications Limited.
Acanthosis nigricans - Image
is a sample topic from the
Evidence-Based Medicine Guidelines
.
To view other topics, please sign in or purchase a subscription.
Evidence Central is an integrated web and mobile solution that helps clinicians quickly answer etiology, diagnosis, treatment, and prognosis questions using the latest evidence-based research. Complete Product Information.